The status of women in India has been an issue of great concern for many years, and Inter-Mission India works to empower women, restoring their dignity, and renewing their purpose in life.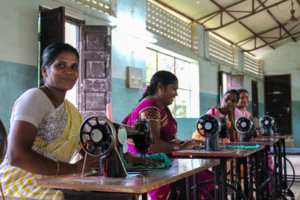 Inter-Mission India runs a Tailoring Centre in Alamathi, Chennai with the aim of empowering young girls and women from the surrounding villages. The husbands of these women are daily wage labourers or shepherds and their children go to nearby schools, leaving them idle during the day. As is customary in the community, women are not allowed to go out of their villages to work or earn a living. Even attending a tailoring class in the neighbourhood used to be frowned upon by the elders of the community. But on seeing the confidence these women have gained, their ability to stitch daily wear for their families, and the potential this kind of education brings to earn a living despite societal limitations, the community has not only accepted this initiative, but is also enthusiastic about seeing it develop it further.
Women in batches of 20-25 attend half-day classes, learning both the theory and practical aspects of tailoring, learning to stitch everything from children's clothes to adult men and women's wear. In addition, they are taught life skills and moral values that are useful for their day-to-day living.
Inter-Mission plans to expand this initiative into a self-sustainable project, offering jobs to the women who have completed the course, and starting a garment production unit in the area.